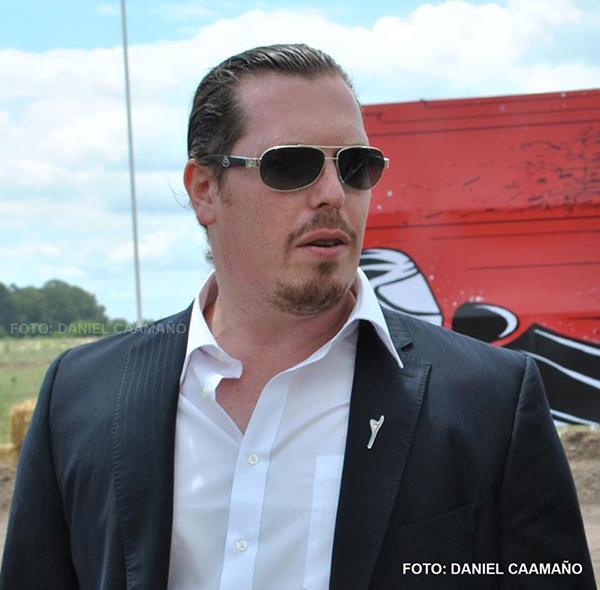 Businessman Edward Freedman is building a private motorsport circuit in the city of Zárate. This project, named Velociudad, could even make the Formula One to come back to Argentina.
Through an exclusive interview, Mr. Freedman told us about his dual citizenship, Argentine from his mother´s side and German from his father´s side, although he grew up most of his life in Montreal, Canada.
Married since ten years ago, he has two kids, which are his most greatest achievement.
Since two years and half ago, he is living in Argentina, from where he runs Business for his Latin America based companies. Due to this move, he can spend more time with his family.
In his spare time, he participates in sport driving and amateur racing events.
He thinks that one of his best strengths is to know about his own weakness, while as his flaw he remarks his impatience.
When he has to make an important decision, he just prefers to take the necessary time to be sure his choice would be the right one.
Since a very young age, he is a devoted motorsport fan. Ayrton Senna and Gilles Villeneuve are his all time racing driver heroes.
Why do you choose Argentina to build Velociudad? And why the city of Zárate was selected?
When I got here I found out the infrastructure of circuits is poor. It is a country with more than 50 racetracks and none of them are good and safe. The only good one is too far from me and it is not a full time racetrack (in San Luis).
The initial idea was to build a club track but as I discovered the needs of the automobile companies, the clients and the racing series it became clear that there is a real need for a proper venue in Argentina.
I looked for land in many places, the Pilar area was my first choice, but there are too many Polo clubs around and it is very unadvisable to place cars and horses, since the horses were there first we have to respect that.
We later looked in the Zarate Campana area due to the proximity of the car industry, then it became evident that it is a perfect location and it will serve Capital Federal but also Rosario and will have an easy access to Cordoba. This means that in about 5 hours drive from Velociudad we will have more than half of the Argentine population, and we are an hour away from two international airports. This is a better location than many of the existing international racetracks to the nearest major cities (i.e. Silverstone to London etc.)
Is Velociudad intending to bring back the Formula One to Argentina?
Bringing the F1 Circus is Business?
The Formula 1 issue is being brought up a lot. To make it clear, we are developing a FIA Grade 1 racetrack and in principle we could have a Formula 1 race. However, there is so much work to do before this can be done. Mainly regarding traffic infrastructure, not so much hotels because Buenos Aires is about 40 minutes away and there are more than enough hotels in the one hour radius of the racetracks. Just for a comparison Monaco does not have too many hotels in it and many fans stay in the Nice area. The same goes for hospitals, by a helicopter we have 5-7 minutes flight to two major hospitals with a trauma center, and that too is closer than most racetracks. In addition we will have a state of the art medical center on site.
However, Formula 1 is not a business for me, nor is it a part of our business model. We aim to serve the local automobile industry, we are within 20 minutes of Toyota, Honda, GM/Chevrolet, VW and others. These companies do not have a proper place to launch cars, to test cars and to bring clients. There is also no proper club circuit and a club facility in Argentina for owners of high performance cars, we will create a safe and secure environment to drive Ferraris, AMGs, Porsches etc…
There is also a growing field of high end tourism in the world of Petrol heads who would travel around the world to participate in driving events, currently there is no such place in South America but we will be a prime attractions for other South Americas and Europeans. We aim to create a large tourism program especially with Brazil.
This is just the tip of the iceberg, we have a complex business plan that will make Velociudad the most profitable racetrack in the world.
Having said that and going back to F1, we did not publish anything about bringing Formula 1 to Argentina by 2014 or 2015, this was a media spin. I would love to see F1 at Velociudad, having talked to many people involved in F1 the feeling is that many of them would love to be back in Argentina as it is a passionate place with a rich history. I personally feel that right now it is not yet the time to talk to Mr. Ecclestone, I have seen in the past year so many people rushing into an F1 contract without a proper facility, if we will do this it will reflect poorly on Velociudad, Argentina and myself and I feel that when we are nearing the end of the construction we can close a deal with F1 and bring it back to Argentina.
In your opinión, which is the reason there are not argentine drivers in the Formula One, regarding our motorsport Heritage?
The talent is there but I think mentally there is a problem. I will not blame this on financial issues because a good driver will attract sponsors from any country, but it seems like Argentina did not advance in many years, you can see that when looking at the local categories, instead of adopting the European model of pushing for motorsport excellence it seems like Argentina is patching things without proper infrastructure investment. The model here and I see it in business is "how do I make 100 pesos now" instead of "let's make 10,000 pesos later". The same goes in motorsport, you cannot see great results without investing in fundamentals, the Argentine approach is old fashioned, when it became clear in Europe that long straights are boring Argentine's still think that straights is where overtaking is done, even though 75% of overtaking takes place in corners.
With regards to the mental issue, it is clear that to make it into F1 you must compete in Europe, not in South America, not in North America not in Asia but only in Europe. To be in Europe one must speak English, not Spanish and not Italian. For motorsport you must speak English, so many Argentines do not speak English and they have trouble adapting in Europe. This is also true for footballers and this is why you don't see too many Argentines in the Premier League (UK) and the German League who are better leagues than the Italian and Spanish league.
Another problem is the level of professionalism, a professional driver must live, breath, eat and sleep driving, not go out partying and so on. The best example is Sebastian Vettel, he is not only so talented he is also a professional, he should be an example and every Argentine driver should say "I want to be like Sebastian Vettel" and I am saying that as an avid McLaren fan. I can give another example from the football world, when an Argentine player entered into a contract from his own free will and decided one day not to play, this is unacceptable and unprofessional.
The last point is the local categories, there is only one local formula category which uses an old outdated equipment, when and Argentine goes to Europe he will take about 6 months only to get used to the car and it will waste a lot of development time. The local formula categories here should be on par with Europe and should use the same engines, chassis and transmission.
The local touring categories should also catch us, now they are using V8 in TC 2000 but front wheel drive? This is quite unacceptable.
There will be a driving school in Velociudad, for young professional Racing drivers?
Absolutely, we intend on opening up an academy that will train young Argentines by using the best equipment and the best instructors. We will create an instructors team that will be mixed, Argentines and Internationals and will also teach the drivers to be professionals and will prepare them for a career in motorsport. We will teach them English and make sure that when they arrive to compete on the toughest levels, they will be able to cope with the pressure.
Our social responsibility program, which is an issue that I strongly support, will help children and drivers from underprivileged families who normally would not be able to afford racing to develop based on their talents and not based on their financial situation. The same for mechanics and engineers.
I strongly feel that any person who was fortunate in his life and experienced success must be responsible and help to support people who did not have the same privilege or luck.
How would you define the Velociudad concept? Whith what other tracks around the World do you compare it?
Velociudad is not just a racetrack, it will be a community and the pillar of Argentina's motor sport and car industry. We will have our own social responsibility program and will aim to improve the social level of the people around the racetrack.
I would not compare it to any racetrack because the concept is new, it will be the only motor sport venue with a stadium like atmosphere. Unlike other circuits where the fans can see 2-3 corners, at Velociudad they will be able to see 65% to 75% of the entire racetrack. This will bring the best of the NASCAR world into the high level competition of GT and Formula racing and will create something totally new for the fans. We want Argentines to be proud of the venue.
The circuit layout looks tight, a bit complex and without long straights, why did you chose that format?
Long straights are boring and old fashioned, anyone who likes long straights can go look at the highway and not the racetrack; Anyone can drive fast on a straight and you don't need any special talent. Most Argentines don't understand that overtaking cannot really take place with a one engine make series on a straight and also in F1 most overtaking (between the fast cars of equal speed) took place in corners.
The circuit is not complex but it is technical it is for professionals and we intend on making many new professionals in the country.
We chose that format mainly because most of the older type tracks are quite boring and the view for the fans is quite poor. Regardless of that our main straight is still longer than Silverstone and the combinations are very interesting. We had some of the best people in the world of track design and ex drivers assist us in creating something new and unique that will still meet all the safety requirements and standards.
We had many track modifications, it is not a decision that was made but an entire evolution of the concept to the current configuration. We tested the track on the simulator with ex Formula 1 drivers and drivers of other categories and based upon their input we decided on how to develop the race track.
There will be space for car makers brands?
Yes, our aim is to help car makers display their products. Currently there is no proper test driving place in Argentina and it is important especially to brands like Ferrari, Mercedes AMG, BMW and Audi who make high performance, luxury and supercars.
But we also aim to provide other car makers the ability to introduce their products and hold events in a safe environment and support their clients.
What is the Club Velociudad?
The Velociudad Club is a private club for petrol heads both from Argentina and abroad. As club members they will enjoy exclusive benefits and the ability to use the racetrack with their personal cars or by using our fleet of cars.
Why was it chosen the British firm Populous for the development?
We have interviewed many design firms and we shared a common vision with the guys at Populous. We obviously had to chose an international firm due to the lack of experience of local firms. This is noticeable in many sports facilities in the country where locals who do not possess the proper experience are hired and the end result is that the developers save a little on the architectural costs but end up spending much more because the facility is not done properly. The best example is the Stadium in La Plata that is one of the worst facilities I have seen.
In general introducing Populous to Argentina is a great thing, most football stadiums here should be either remodeled or destroyed and rebuilt and there is a very simple financial model used in Europe and North America and it was not adopted by South American Countries yet but it should be, whereby the Stadium's construction costs is not paid by the club/owner but by a sponsor. This does not necessarily need to be a local company because in the case of Argentine football for example, where the games are televised internationally, a foreign company may choose to do so.
Our model is different since we are creating a brand and we felt that when it comes to motorsports and the overall purpose of what we are trying to achieve the best deliverable results will be done by Populous, so far I am happy with the progress, this is shaping out to be a great business model with multiple revenue streams.
I would like to end by saying that we were approached by many people stating they know how to make this profitable and so on, we have developed the best possible financial model for this facility and this will be not only a profitable circuit, or a highly profitable circuit, this will be the most profitable circuit in the world and we will do our best to bring back the best international categories to race in Argentina, develop young drivers mechanics and engineers and attract much international tourism to the country.
I think Argentina has a lot to learn but I love this country and I will do my best to help and improve motorsport in particular and the country as a whole.
Thank you very much for your time. Success in your Velociudad Project.
Journalist: Carolina Montoro Justo
Photo: Daniel Caamaño
Translator: Kein Rodriguez